Ten Kate Racing runs the Pata Honda World Championship team, transforming high-performance Honda motorcycles into finely tuned racing machines. The team has won eight World Supersport titles and one World Superbike title.
For the design team, time is of the essence. While the winter is spent on developing a new motorcycle, development continues throughout the season. Components are often redesigned and tested in the short period between races. To support such demanding timescales, Ten Kate Racing uses Solid Edge® software from product lifecycle management (PLM) specialist Siemens PLM Software.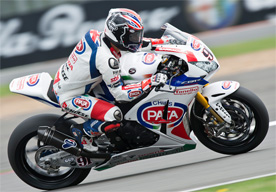 The in-house team designs certain parts for the Superbike, such as brackets and links, while other parts are designed by external suppliers.  In some cases, they need an instant response to a problem that crops up during a race. Each part needs to be absolutely correct when they fit it on a bike. For this reason, they use assembly simulations more and more to ensure that everything works together perfectly. Using assembly simulations enables the designers to gain more insight into individual parts. Using Solid Edge, they can work at a fine level of detail, shaving off any extra grams to achieve the perfect balance of strength and weight.
Implementation of Solid Edge allowed Ten Kate Racing to cut machining lead times by 50 percent; design and manufacture new parts between races; and rebuild bikes quickly after crashes.
>Read the full case study by Siemens
Motorcycle racing team uses PLM technology to improve parts – even during races