Car manufacturers, such as General Motors and Ford, are increasingly using VR to test design plans, tolerances, and safety features in virtual environments to ensure their products are evaluated at a very early phase of the process, thereby reducing the time and costs.
VR has enabled them to shorten the vehicle development process in many ways. It enables the designers and engineers to view the products in 1:1 ratio in a real setting. It can actually turn around realistic models onto one scale within a day whereas if you were to build a physical prototype it would probably take up to a few weeks or months.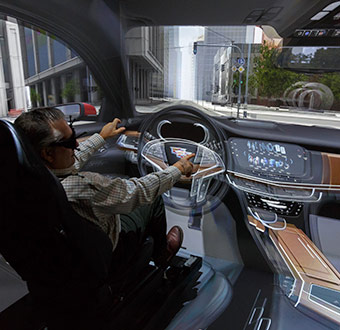 The virtual data is displayed on a monitor, a large projection screen, or Cave Automatic Virtual Environment (CAVE) – an immersive virtual reality environment where projectors are directed to multiple walls of a room-sized cube.
The CAVE provides an environment where designers and engineers wear 3D glasses and become completely immersed in the computer-generated graphics of the exterior and interior of a vehicle. They can then evaluate mirrors, placement of controls, and design quality, such as gaps, fits, and finishes.  Although the CAVE really been around since the 1970s, there have been major upgrades recently.
Every program, vehicle, and platform utilizes VR at GM for decisions being made in the physical development process from the initiation of a program to a prototype.
Safety is another parameter being evaluated using VR. Using CAE crash and vehicle simulation data, you can optimize parts for weight strength and how they react under crash conditions. Ford also has a lab outfitted with VR technology to raise manufacturing quality.
In the future, VR tools will have a place in a meeting room to collaborate much the same as it used to be when engineers and designers would meet around the car down at the shop.
>> Read more by Chitra Sethi, ASME.org, March 2017
Manufacturing Cars with Virtual Reality