Collaborative robots are defined by a number of characteristics, from human friendliness to flexibility. One of their hallmarks is the ease of configuration. Unlike the caged automotive robots for welding and painting, collaborative robots don't require a full-time programmer on hand. You don't need to be a software engineer to get your collaborative robot picking and packing.
Universal Robots has developed online training modules to further lower the training barrier to robot deployment. The hands-on modules are offered free of charge, open to all, and built to deliver hands-on learning via interactive simulations. Anyone with a desire to learn the concepts of collaborative robots can log in to the Universal Robots Academy and get the introduction necessary to master basic programming skills – and actually, it's more configuration than programming.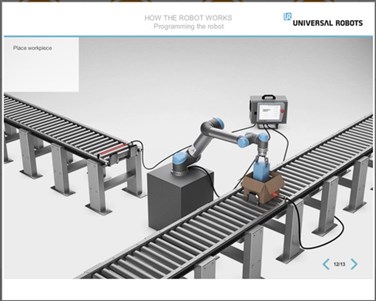 The six easy online training modules are built to deliver hands-on learning via interactive simulations to maximize your engagement. The free online training is open to everybody in these languages: English, Spanish, German, French or Chinese.  The modules include:
First look: Features and terminology
How the robot works
Setting up a tool
Creating a program
Interaction with external devices
Safety settings
The training sessions are designed to give new users a feel for what it takes to deploy a collaborative robot. While you can't replace hands-on experience with actual robots, this program teaches the basic concepts and tests students as they go along. Whirlpool is one of the large customers in this training.
>> Learn more at Universal Robots Academy
>> Read more by Rob Spiegel, Design News, April 24, 2017
Universal Robots Academy Offers Do-It-Yourself Robot Programming