As companies continue to see big benefits from using robots on the factory floor, they are starting to invest in smarter, smaller, more collaborative robots for more delicate or complex operations. The following is a list of the top robot jobs that are currently emerging in factories.
1) Drilling and fastening
Manual drilling typically requires three steps, and can take even longer with exotic materials like titanium. Robots with sophisticated vision systems can perform drilling in a single pass, dramatically cutting labor costs and improving speed of production.
2) Inspection
With more complex assemblies and tight tolerances, accurate inspections are a must, both in-process and for the final product. Robots equipped with cameras, laser scanners, and ultrasonic and metrology equipment can quickly inspect products and record the data.
3) Welding
Metal parts welding for assembly (for example, turbines) must be performed with precision. "When using exotic metals, such as titanium and nickel-alloys in motors, industrial robots are a must in order to do effective and accurate welds," states Mathieu Bélanger-Barrette, a production engineer at Robotiq, a manufacturer of industrial robots.
4) Painting and sealing
Applying sealant, paint, or other coatings on large fuselage or framing parts is difficult for a manual operator, because of the size of the parts. "By putting robotic arms on rails, working cells can cover distances from 30 to 40 feet, several stories high," says Bélanger-Barrette. Since painting robots are equipped with flowmeters, industrial painting robots can apply material without leaving behind drips, inconsistencies, or overspray.
5) Collaborative assembly
Advances in artificial intelligence, computer vision, microelectromechanical systems sensors, and semiconductor technologies have enabled industrial and service robots to work alongside humans to help assemble products across a wide range of industries, from aircraft engines to delicate electronics. These robots can almost be the boss, with their vision systems and other sensors, they can "see" if their human partners are assembling products correctly.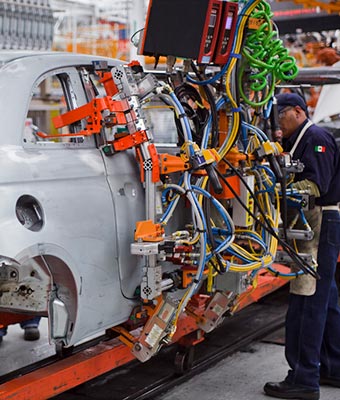 >> Read more by Mark Crawford, ASME.org, March 2017
Top 5 Robot Jobs in Manufacturing