A new high-pressure injection molding technology produces near-net shape parts with 2-inch-thick walls from high-performance materials like PEEK, PAI, and carbon-filled polymers. Parts show no voids, sinks, or porosity, have more consistent mechanical properties, and are stronger than those made with either extrusion or compression molding.
Piper Plastics developed the near net shape proprietary process and equipment to cut the cost of machining large parts made of expensive high-performance materials, Dave Wilkinson, materials engineering manager, told Design News. "In the past, if you wanted to make large plastic parts more than 1/4-inch thick, you were limited to using either extrusion or compression molding to get that stock shape, which you'd then machine into a part," he said. "But if you try to injection mold a part that's anywhere close to 1/4-inch thick, you get voids, sinks, or porosity. With this new process, you can make parts up to 2-inch thick without any of those problems."
Bigger parts and weights of up to 6 lb per blank are the best candidates for this process, especially those with complex geometries and varying wall thicknesses, said Wilkinson. Compared to extruded shapes, parts made of high-performance thermoplastics, whether filled or unfilled, are typically 15% to 20% stronger. Compared to compression molded shapes they're 50% stronger. Mechanical properties are also much more consistent than in parts made with either of those processes.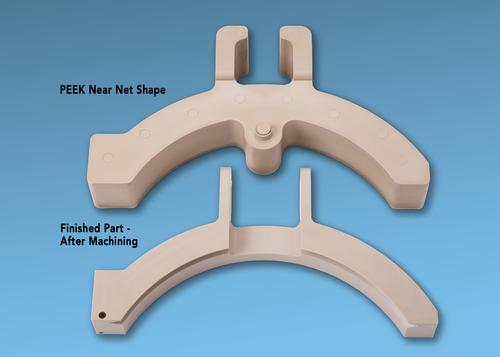 >Read more by Ann R. Thryft, Design News, 5/27/16
Make Big, Stronger Parts With Near-Net Shape Technology