Coinciding with manufacturing's shift toward Industry 4.0, Product Lifecycle Management (PLM) and Product Data Management (PDM) are experiencing a series of advancements aimed at improving integration and interoperability, while also preserving a digital thread of a product's development.
One of the biggest changes is that systems that previously focused primarily on mechanics are beginning to accommodate electronics. Companies are building high-tech products even if they're not in a high-tech industry. The result has been a shift to greater use of PLM.
Collaboration has become a must as product development teams move to speed time-to-market. Rather than shifting the product from one team or discipline to another — say from CAD drawings to material analysis to simulation — multiple disciplines can weigh in simultaneously. Many people are working on the same assembly at the same time, and collaborative tools let you see who's working on what — instant messaging, web meetings, threaded discussions are part of this.
Connectivity is now going out to the product's customers via the Internet of Things. The customer data can be brought into the design process, in to the PLM, to enhance the product in its next generation.
Most products require a number of software tools through the design stage. More and more, tools such as computer aided design, modeling, or materials assessment are connected to the design platform to make the design process more efficient and speed time-to-market.  Designers can find out whether a particular material will meet weight and stress limits in the digital world and use the PLM plant to share the results across the various disciplines.
Millennials expect their software tools to work at the same tech level as their smartphones. And PLM companies are now facilitating that through web clients, which can be accessed from a computer or mobile device.
A product's "digital thread" keeps its requirements together throughout the design process and can be shared. The requirements get more complex as the product moves along in the design process and may include market issues as well as governmental regulations. The PLM system is tasked with keeping the process on track.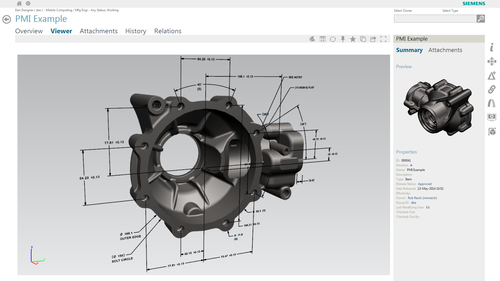 > Read more of Rob Spiegel's article from Design News
6 Reasons Your PLM & PDM Are Getting Smarter Than Ever